SHOCK WAVE THERAPY (SWT)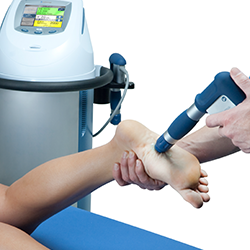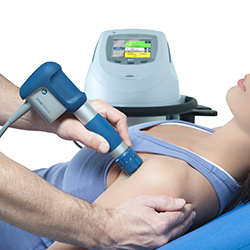 SWT is a medical device used to treat and relieve the pain associated with soft tissue conditions like tendinitis/tendinosis and heelspur. This innovative Extracorporeal Shock Wave Therapy System has provided pain relief in up to 90% of the patients treated in US and Canadian health centres and is now available in Ireland with DK Orthotics & Injury Clinic. SWT is a low energy sound wave that interacts with the tissues of the body causing a cascade of beneficial effects such as neovascularisation ingrowth, reversal of chronic inflammation, stimulation of collagen and dissolution of calcium build-up. SWT is a novel therapeutic modality without the need of surgery and surgical risks as well as surgical pain. It is convenient and cost-effective.
Most common injuries treated with Shock Wave Therapy

·         Plantar Fasciitis

·         Heel Spur

·         Achilles tendonitis and Tendinosis

·         Patellar Tendinitis/Tendinosis (Jumper's Knee)

·         Bursitis and Tendinitis/Tendinosis of the Hip

·         Groin Pain

·         Biceps Tendinitis/Tendinosis

·         Frozen Shoulder

·         Rotator cuff tendinitis/tendinosis

·         Shoulder bursitis

·         Shoulder impingement syndrome

·         Tennis Elbow

·         Golfer Elbow



Testimonials
Bressie
– Muscian and TV Show coach from the Voice Ireland –
"I had recently started training with the hope of competing in a handful of triathlon's this summer. Having come from a professional rugby background I was very aware of the importance of injury prevention from high intensity training so I was pretty frustrated when I started suffering from severe heal pain while running, otherwise known as plantar fasciitis.
I tried rest and many treatments until shock therapy was suggested to me by my Coach . I Contacted Darren out at Base to Race in Ballymount and after two sessions of shock therapy I was back Running lightly and after four shock therapy sessions I was back in full training .I found this amazing for an acute Injury such as mine and massively recommend it to anyone frustrated with their injury."

 June Flattery
 –
"I work as a hairstylist so I am on my feet a lot and started to sufferingwith Achilles pain which has been going on for 20 years now. I noticed a lump, redness and swelling in the Achilles tendon developing. I continued to try run and joined the local running club whilst battling with my Achilles and getting Plantar Fasciitis on my other foot but managed them the best I could but was never able to shake it or get away from the pain. I couldn't give the running up meant so much to me and struggled on but it came to a point where I had no choice as it was they where so bad. I went to a neuromas amount of physios to try get back but had no joy.
 I was referred to Darren Kelly as he was known well for treating lower limb injuries and he had a Shock Wave Therapy machine which worked so well for another member of the club. I met Darren and found him very professional and after 3 sessions with Shock Wave Therapy and been prescribed with orthotic insoles both my Achilles and Plantar Fasciitis (heel pain) I could honestly see a huge difference. I've returned back to running three times a week and I have my sites set on Dublin City Marathon 2016."